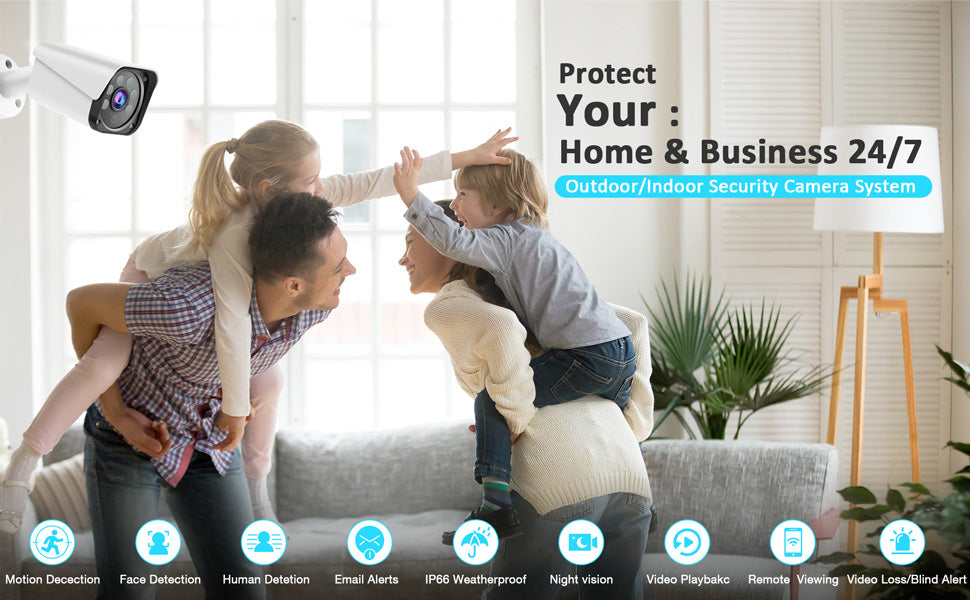 About this item
【DVR Security Camera System】The security camera outdoor system comes with a 8 Channel DVR and 4 AHD camera. Every 1080P camera has 85°view angle and 65ft night vision. The wired designed can provide your a more stable and reliable connection than other wireless camera, gives a 24/ 7 recording to monitor the safety of your house and property from all angles.
【Pre-installed 1TB Hard Drive】1 TB Hard Drive pre-installed in the DVR that can record HD 2MP live video and capture 1080P HD images. Support more than 60 days of reliable video recording.
【APP Remote Access + Video Playback】ElecEye home surveillance system supports APP Remote Access, you can get the real-time monitor images via the PC client VMS software, or via the free "XMEye" app download by the App Store/Google Play. The camera system also supports video playback and video backup, you can transfer the recording video files by USB or external Hard Drive to the computer for a playback viewing or Backup.
【Motion Detection and APP Alert】The home security camera system supports the human face and motion detection, can reduce the false alarms, it will send alert notification to your phone when detecting motions. 4pcs 1080P camera set equipped with 7 IR lights, the night vision distance can up to 65ft/20m, providing you a clear footage even at night, makes the thieves will have nowhere to drill.
【IP66 Weatherproof & Warranty】IP66 waterproof design can completely prevent dust and splash water from entering. The best use temperatures are between -4°F to 122°F (-20°C to 50°C), allows it to keep monitoring in extreme environments no matter in storm and snowy weather.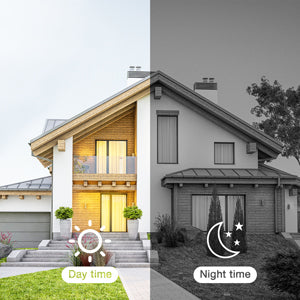 HD picture quality and IR camera
4 standard 1080P cameras, up to 8 cameras can be connected. AHD / XVI // TVI / CVI / CVBS video input. Infrared night vision is also clear at night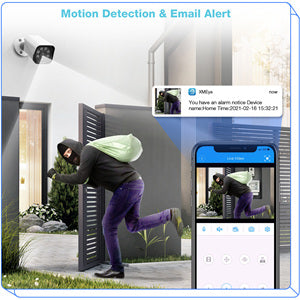 Remote Live View
After installing XMEye app, you can use your cell phone or client PC to remotely monitor all security cameras of your device. Real-time video preview, recording, simultaneous playback and backup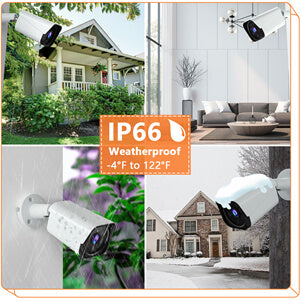 Various Applicable Scenarios
The wireless outdoor security cameras are IP66 waterproof and can withstand operating temperatures from -4°F to 122°F (-20°C to 50°C). Even in extreme weather conditions, it can work normally.
Face Recognition
When the AI recognizes a face, it automatically takes a picture and triggers an alarm. A quick email or push notification is sent to the user's smart device first, and any problems can be handled quickly, providing you with 24-hour protection.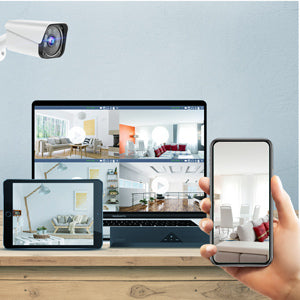 Remote Access
You can access remotely anytime, anywhere on your smart device (IOS / Android) via Wi-Fi on your smartphone, tablet and PC at the same time. No matter where you are, you will not miss the opportunity to read remotely and locally

Technical Support
W204 packaged product. Use of built-in LINUX operating system for greater system stability.
Using network technology such as TCP/IP, it has powerful network data transmission capability and remote control capability.
The product can run independently locally or be connected to the network to form a powerful security monitoring network. Together with the professional network video monitoring platform software, it fully demonstrates its powerful remote monitoring and networking capabilities.
Place of use
This product can be used in home security, store management, smart community, farms, factories, warehouses, water conservancy facilities and other fields and sectors for security protection.
Notes
All DVR/NVR support P2P, as long as the device is properly connected to the network, customers can download the corresponding cell phone APP for remote preview, or locally install VMS or connect to the network to reach.

alarm system in DVR/NVR is usually divided into timing/motion/alarm recording, 7*24 all-day recording needs to be set by the customer.
the hard drive is recommended to use a dedicated hard drive for monitoring (more expensive), ordinary mechanical hard drive can be used but not recommended.
the camera supports day and night monitoring mode, when the illumination is less than a certain value, open the infrared light, the camera image becomes black and white.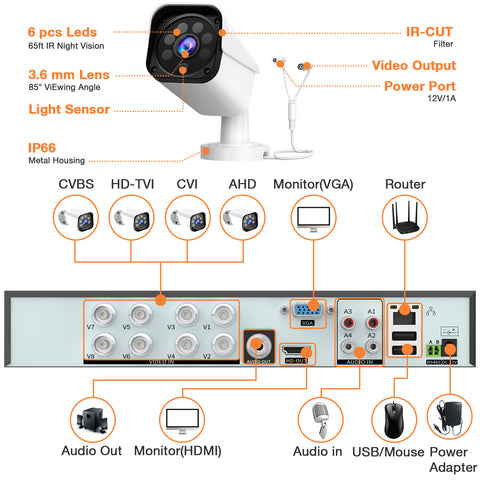 8-way DVR + 4 1080P surveillance cameras
Power supply: 12V / 4A
Channel: Support 8 cameras
Hard disk: 1TB-8TB
USB port: 2 * USB 2.0 port
Video input: Support AHD, TVI HD video input
Output: while supporting VGA, HDMI full HD output 
Operating temperature: -13°F~122°F (-25°C~50°C)
Motion detection: Support custom motion detection area
Privacy protection: Support setting 4 privacy areas
24/7 recording: Support continuous loop recording
Video playback: Support remote and local viewing or playback
What's in the box?
1 x 8-channel hard disk recorder
4 x 1080P cameras
4 X 65FT 2-in-1 video/power cable
1 x power cable splitter
2 x DC 12V/2A power adapters
1 x 3.3FT Ethernet cable
1 x USB mouse
4 x Hard Drive Screws / 4 x Camera Screws
Note please:
1TB Hard Drive is not included.
Please modify the system Admin Password according to the user manual to protect the video camera system.

Purchase this product first or wait for order to complete in order to give review
Total Reviews (0)
click here write review to add review for this product.
1:Which transport methods do you offer?
We have warehouses all over the world, providing DHL Express, USPS, Canada post and other transportation methods.
According to your country, you will be given a relatively close shipping location.
The United States, Canada, France, the United Kingdom, Germany, Italy, Spain, Australia, Japan and European countries need 5-10 days to arrive, other countries need 10-20 days
2:How can I track my order?
When you complete the purchase, we will provide you with an order number (to send you the order number via email), you can query this website based on this order number at https://t.17track.net Logistics information
3:How much is the shipping cost?
As long as the order is over $15, the shipping is free(Free shipping on holidays) If the order does not exceed $15, the shipping is $10 for worldwide。 Some remote countries and regions need to charge 10-30 US dollars for transportation fees (shown on the checkout page)
Note: If you want to buy in bulk, please check the customs policy of your country before buying. We don't include customs clearance and you need to clear it yourself. If the goods are returned because they cannot be cleared, we need to charge the freight for the goods.
Most goods in the United States, Canada, the United Kingdom, France, Italy, Spain and other European regions don't require customs clearance, and will be delivered using local warehouses.
For other countries, please contact us before buying in bulk.
4:How to return the product?
If your goods have quality problems, please contact us at:[email protected]. and provide your order number.
If there is a problem with the product, you can return it within 30 days, we provide a one-year warranty
If you have any questions, you can request a refund on your paypal or credit card.anytime.
Our goal is to make sure your International buying experience exceeds your expectations. If you have any questions or would like references from our customer base of large institutional, research or university clients, please feel free to contact me anytime at [email protected]
5:How to cancel an order?
If you want to cancel your order, you can contact: [email protected].
But please note: if you pay with paypal, we will refund you the full amount.
If you pay by credit card, the bank will deduct our handling fee, so we will deduct the 3.5% handling fee and refund you the rest.
Note:
Due to the impact of Covid 19, logistics will be delayed. It is expected to be delayed about 3-5 days than usual. If your country or region is closed, we will send you an email to notify you. Please fill in your email when ordering!