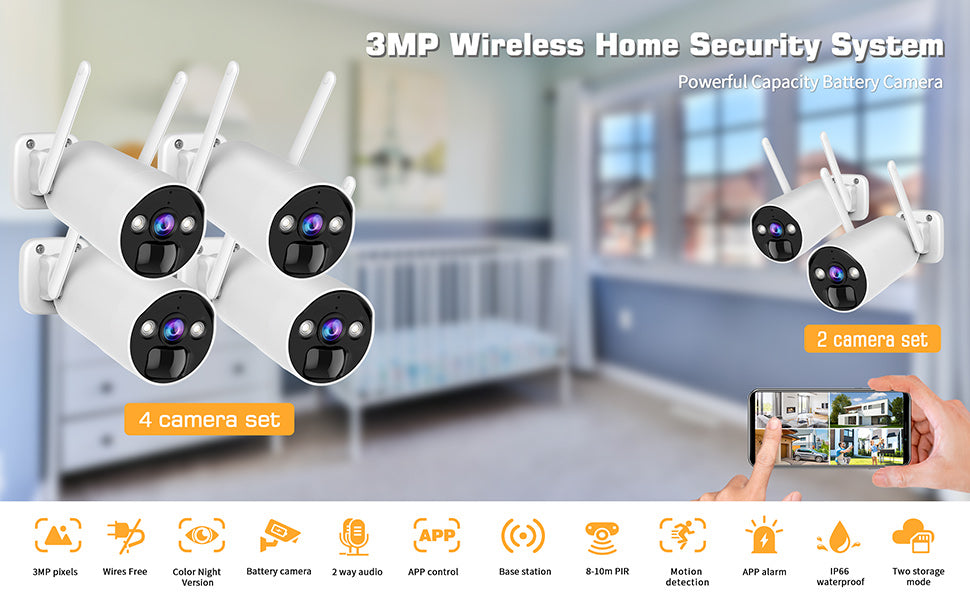 About this item
【3MP 32ft 120° color night vision】3MP (2048 x 1536p) home security system wireless with 4mm lens, 2 LED beads, 5DB antenna. Dual LED light source supports 3MP 32ft 120° color night vision. Turn on the spotlight in the Cloud Eye app to achieve color night vision. Color night vision is more realistic and vivid than infrared night vision, outdoor wireless home security system will help you record realistic moments
【100% wireless and low power consumption】No need to worry about power and network cables during installation, just mount the camera in the desired location, 100% wireless. Low power consumption wireless home security system can be used for months on a single charge, no need to worry about running out of battery or taking down the camera frequently. Especially suitable for office workers who need to go out often and people who want to simply install the camera
【Convenient two-way audio and 2 storage modes】: The wireless home security camera system has a microphone and speaker to support real-time response. It will be more convenient to communicate with your family or guests through APP. All videos can be saved to TF card (not included) or cloud storage. The Home Security Camera System wirelessly supports up to 128G TF card, which is automatically overwritten when full. You can view videos or play videos in real time in "CloudEye" App (iOS/Android)
【More stable and secure base station】 There is a wireless dedicated cable connection between the base station and the camera to ensure more stable, farther and faster transmission and maximize information security. Simply connect the base station to the router using the provided network cable. When you receive it, the camera and base station are paired well, just open the camera, download the APP and scan the QR code on the base station to add the device
【Smart PIR Motion Detection and APP Instant Alert】 The home wireless security camera system uses PIR motion detection. It will start recording only when a heat source is detected. The camera system will then push an instant alert to the APP. the PIR sensing distance is 32 feet. Recording time can be adjusted as needed.

Why choose Toguard SC03?
100% wire-free: Simple installation and no need for network cable and power cable when using the home security cameras.
Color night vision: Color night vision makes surveillance videos more realistic and more convincing as memories or evidences.
2 way audio and APP control: Communicate with your family on security cameras through the APP. APP supports playback.
Powerful capacity battery: Triggered 15 times a day, 10 seconds per recording, it can be used for more than 180 days.
Suitable for indoor and outdoor: Perfect for doorway, living room, garage, courtyard, baby room, office, convenience store.
Two storage mode: All videos can be saved to TF card (Not included) or Cloud storage (Free cloud storage for 30 days).
Support to solar panel: Wireless home security system can be used with solar panel. No need to worry about camera running out of power.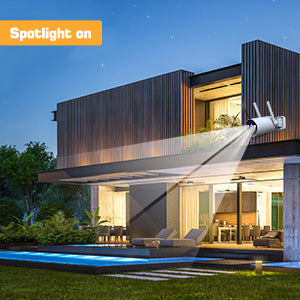 Color night vision
Turn on the spotlight in the APP to achieve color night vision. Dual LED light source makes everything more realistic and vivid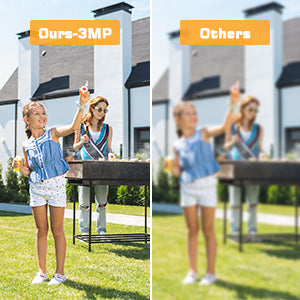 2048P/3MP Pixels
Compared to 1080P pixels, 3MP wireless home security system captures content to create a better visual experience.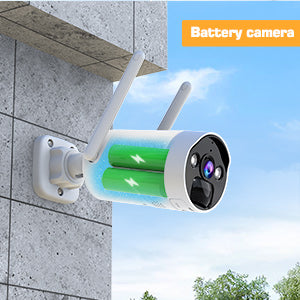 Powerful Battery Life
The wireless security camera system has a powerful battery that takes a few hours to charge, but can last for about 180 days. ( Note: Use the power adapter to power the base station, please use the included power adapter to charge the camera for 5 hours before using it for the first time.)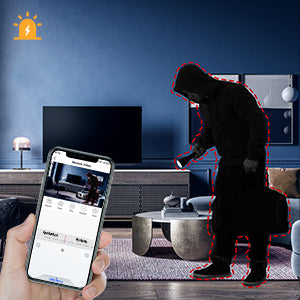 PIR motion detection and APP alarm
PIR motion detection is available at a distance of 26-32 feet. When there is a detection, the camera system will push an alarm notification to the APP.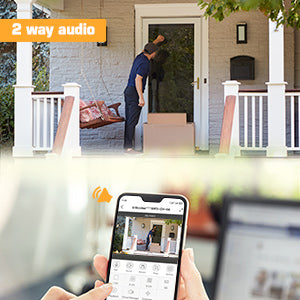 2-way audio
Two-way audio, via mobile app to the camera, makes it easier to communicate with your family or visitors.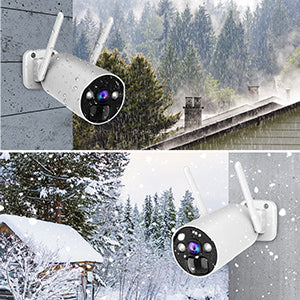 IP66 Waterproof
IP66 weatherproof keeps dust and water out, allowing it to operate between -4°F and 122°F (-20°C to 50°C).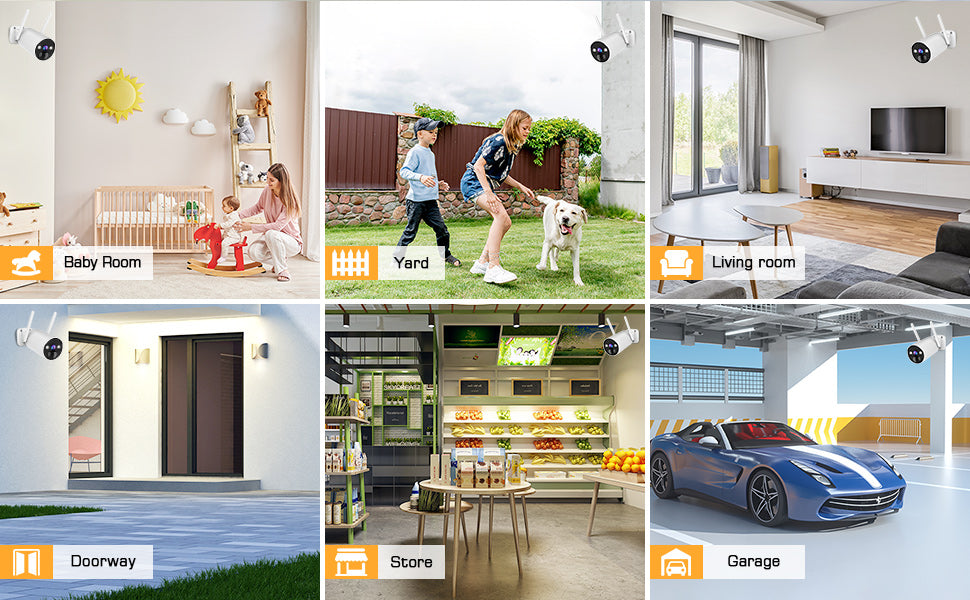 Warm tips
If there is no alarm information, you need to click the corresponding camera in the APP to set the alarm information.
Please do not install the camera too far from the router. This product needs good signal strength to work properly.
To ensure the "Cloud Eye" App works properly, please allow notification/location permissions on your smartphone.
If the phone receives alarm messages too often, it is recommended to reduce the motion detection sensitivity.
If you find someone passing by but no alarm message, it is recommended to increase the motion detection sensitivity.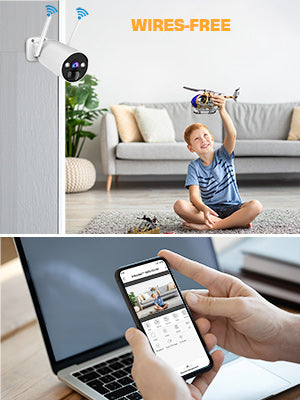 Specifications
Pixels: 3MP
Number of cameras: 2
Maximum number of cameras supported: 4
Whether audio: Yes
Whether motion detection: Yes
Maximum supported memory card: 128G
Waterproof rating: IP66
APP: CloudEye
Camera power / Base station Power: DC/5V
Accessories
2 x camera
4 x antenna
1 x WIFI base station
1 x power adapter
3 x data cable
1 x user manual
Purchase this product first or wait for order to complete in order to give review
Total Reviews (18)
click here write review to add review for this product.
1:Which transport methods do you offer?
We have warehouses all over the world, providing DHL Express, USPS, Canada post and other transportation methods.
According to your country, you will be given a relatively close shipping location.
The United States, Canada, France, the United Kingdom, Germany, Italy, Spain, Australia, Japan and European countries need 5-10 days to arrive, other countries need 10-20 days
2:How can I track my order?
When you complete the purchase, we will provide you with an order number (to send you the order number via email), you can query this website based on this order number at https://t.17track.net Logistics information
3:How much is the shipping cost?
As long as the order is over $15, the shipping is free(Free shipping on holidays) If the order does not exceed $15, the shipping is $10 for worldwide。 Some remote countries and regions need to charge 10-30 US dollars for transportation fees (shown on the checkout page)
Note: If you want to buy in bulk, please check the customs policy of your country before buying. We don't include customs clearance and you need to clear it yourself. If the goods are returned because they cannot be cleared, we need to charge the freight for the goods.
Most goods in the United States, Canada, the United Kingdom, France, Italy, Spain and other European regions don't require customs clearance, and will be delivered using local warehouses.
For other countries, please contact us before buying in bulk.
4:How to return the product?
If your goods have quality problems, please contact us at:[email protected]. and provide your order number.
If there is a problem with the product, you can return it within 30 days, we provide a one-year warranty
If you have any questions, you can request a refund on your paypal or credit card.anytime.
Our goal is to make sure your International buying experience exceeds your expectations. If you have any questions or would like references from our customer base of large institutional, research or university clients, please feel free to contact me anytime at [email protected]
5:How to cancel an order?
If you want to cancel your order, you can contact: [email protected].
But please note: if you pay with paypal, we will refund you the full amount.
If you pay by credit card, the bank will deduct our handling fee, so we will deduct the 3.5% handling fee and refund you the rest.
Note:
Due to the impact of Covid 19, logistics will be delayed. It is expected to be delayed about 3-5 days than usual. If your country or region is closed, we will send you an email to notify you. Please fill in your email when ordering!