About this item
【Wireless Camera with 7" Portable Monitor】This wireless security camera system features an all-in-one design equipped with a 7-inch LCD monitor and 2 cameras for a clearer, wider viewing angle, and a built-in rechargeable battery so you can carry the monitor anywhere in your home. And the camera system comes with a 32GB memory card pre-installed, which supports 24/7 continuous recording and will automatically overwrite once the memory card is full.
【Auto Night Vision & Expandable to 4 Cameras】Outdoor wireless security camera with 4 arrays of IR LEDs that automatically switch to night vision when there is not enough light, keeping your home and business safe even in the dark. Cameras and monitors are paired at the factory and only need to be plugged into the power adapter to be automatically connected. This wireless surveillance system supports up to 4 cameras, if you need to extend your camera, please contact our customer service team!
【The WiFi installation is more convenient】When using, please insert the network cable and power cable into the NVR monitor, while the surveillance camera needs to be connected to the power supply, the video captured by the 4 cameras will be displayed on the screen at the same time. the NVR monitor and the camera are connected via WiFi. Note: the longest distance between the camera and the host WiFi communication is 150 feet; camera and camera wifi distance can be linked to effectively expand the monitoring range. Wall thickness also affects WIFI signal strength. All videos can be safely stored on an SD card (up to 128G, not included) and in the cloud (30 days free storage)

【1080P Full HD】2.0MP presents 1920*1080 megapixels with 4 IR lights, giving you up to 49ft (15m)of night vision even in the dark The AI body detection alarm on the security camera is so innovative that it not only monitors your home but also proactively protects it! Once any suspicious object is triggered, it will automatically light up your yard or scare away intruders.
【App control and two-way conversation】: the surveillance camera set with monitor supports app remote access, communicate with the baby via the screen and the mobile app, you can communicate with the courier when it comes to your door, and when you go out, you can visit the surveillance and communicate with your family members, and if you find a thief, you can call in time to stop its behavior. Avoid financial losses. Of course, you can also install the indoor camera in the baby room as a baby monitor, when you are cooking or yoga can be clearly heard and view the baby through the monitor and does not require a WiFi connection, safe for babies. 
【Alarm sound reminder and email reminder】: the surveillance camera with an outdoor monitor supports the setting "Human Detect", when someone passes by, a reminder sound sounds on the display and a character is displayed at the bottom of the screen. Alarm reminders can be set in the mobile app. When someone passes by, the app sends an alarm reminder
【IP66 Waterproof & wifi Connection】With IP66 waterproof design, the security camera can operate well in most weather and work perfectly even in low-temperature environments (-4℉~122℉), which is perfect for outdoor or indoor use. Wifi connection between monitor and camera, true plug and play. When the camera and the monitor are separated by a wall, the stable connection distance can reach about 100 ft-130 ft. Perfect for doorways, baby rooms, nurseries, offices, gardens, and convenience stores. The CCTV surveillance camera set provides all-around safety for your safety.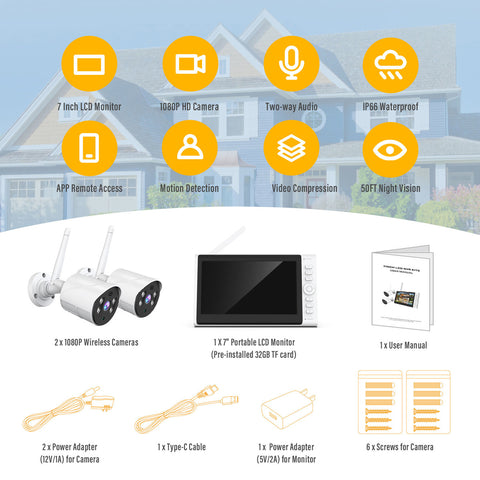 Features
7" LCD screen
Monitor Resolution: 1024*600 resolution
Built-in 3600mAh Li-ion battery
Support up to 128GB TF card (not included)
Support WIFI connection router
Type-C port for power supply & charging
Camera: 2MP pixel, HD1920*1080 resolution
Daytime color, nighttime black & white
4 infrared lights, night vision distance of 49 ft(15m)
Self-marked, speaker
IP66 waterproof
Rating Host can be moved at will maximum transmission distance up to 492ft (150m)
Package
1 x 4CH 7" LCD Monitor Wireless NVR (Pre-installed 32GB Memory Card)
2 x 1080P IP Cameras Supported Two-way Audio
2 x Antenna for IP Camera
2 x 1m power cables (12V/1A) for IP cameras
1 x Power Adapter (5V/2A) with Type-C Cable for Monitor
1 x User Manual
2 x Screws Kit
Purchase this product first or wait for order to complete in order to give review
Total Reviews (0)
click here write review to add review for this product.
1:Which transport methods do you offer?
We have warehouses all over the world, providing DHL Express, USPS, Canada post and other transportation methods.
According to your country, you will be given a relatively close shipping location.
The United States, Canada, France, the United Kingdom, Germany, Italy, Spain, Australia, Japan and European countries need 5-10 days to arrive, other countries need 10-20 days
2:How can I track my order?
When you complete the purchase, we will provide you with an order number (to send you the order number via email), you can query this website based on this order number at https://t.17track.net Logistics information
3:How much is the shipping cost?
As long as the order is over $15, the shipping is free(Free shipping on holidays) If the order does not exceed $15, the shipping is $10 for worldwide。 Some remote countries and regions need to charge 10-30 US dollars for transportation fees (shown on the checkout page)
Note: If you want to buy in bulk, please check the customs policy of your country before buying. We don't include customs clearance and you need to clear it yourself. If the goods are returned because they cannot be cleared, we need to charge the freight for the goods.
Most goods in the United States, Canada, the United Kingdom, France, Italy, Spain and other European regions don't require customs clearance, and will be delivered using local warehouses.
For other countries, please contact us before buying in bulk.
4:How to return the product?
If your goods have quality problems, please contact us at:[email protected]. and provide your order number.
If there is a problem with the product, you can return it within 30 days, we provide a one-year warranty
If you have any questions, you can request a refund on your paypal or credit card.anytime.
Our goal is to make sure your International buying experience exceeds your expectations. If you have any questions or would like references from our customer base of large institutional, research or university clients, please feel free to contact me anytime at [email protected]
5:How to cancel an order?
If you want to cancel your order, you can contact: [email protected].
But please note: if you pay with paypal, we will refund you the full amount.
If you pay by credit card, the bank will deduct our handling fee, so we will deduct the 3.5% handling fee and refund you the rest.
Note:
Due to the impact of Covid 19, logistics will be delayed. It is expected to be delayed about 3-5 days than usual. If your country or region is closed, we will send you an email to notify you. Please fill in your email when ordering!