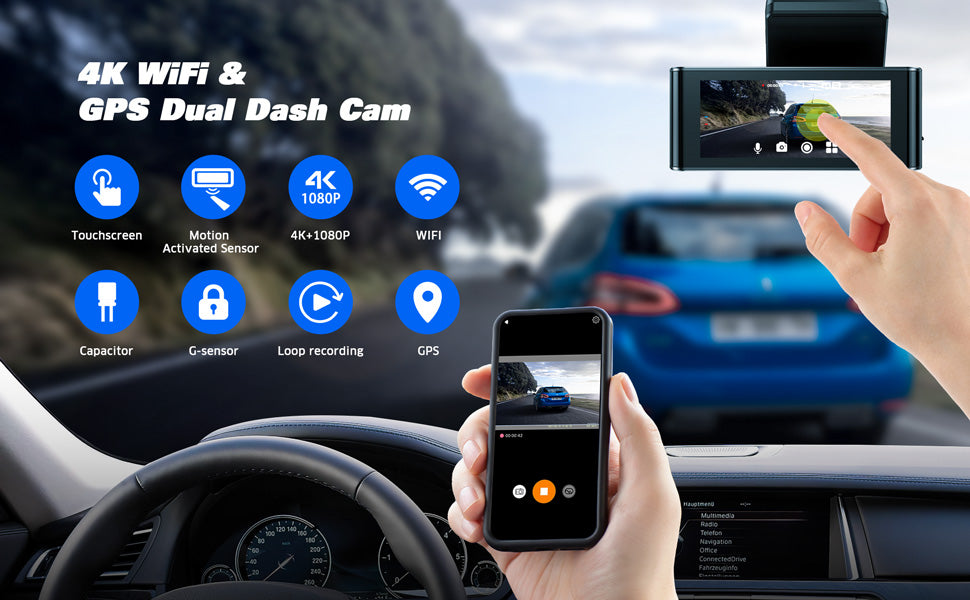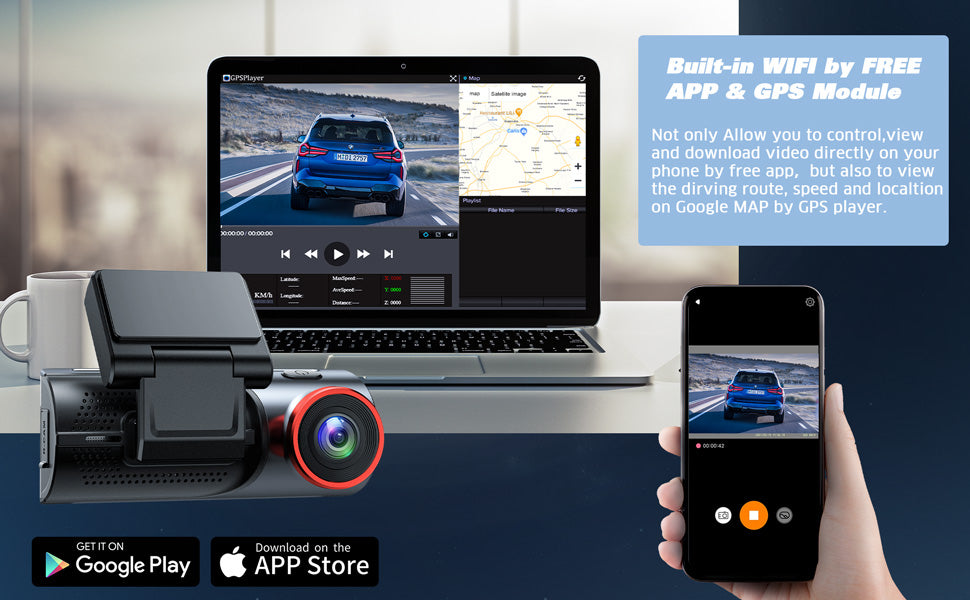 About this item
【3.16-inch touch screen and user-friendly user interface】 The wireless car recorder features a 3.16-inch IPS touch screen and a single power button, so all settings and playback can be done easily with simple firmware. The rectangular slim screen is small enough to be mounted behind the rearview mirror so the car camera won't interfere with your view.
【4K+1080P Car Recorder Front and Rear】4k Car Recorder features high resolution and 6 pieces of high transmittance glass lens to provide 2160P and 1080P front and rear recording. You can get the best images and videos in all details to ensure safety and confidence while driving.
【Built-in WIFI for easy operation on your phone】The wifi function and custom app of this dual car recorder allows you to easily control settings and instant updates. When the app is connected and running, it uploads all saved footage to your phone so you can play and share recordings whenever you want.
【Driving recorder with GPS and speed】The front and rear driving recorder has built-in GPS to accurately identify and record your vehicle's location and speed. The screen saver will display the current speed and date/time while driving.
【Exclusive Design Gesture Sensor】 Once your finger is near the bottom of the car recorder, the front and rear of the car recorder will lock the video or take a picture through the gesture sensor function. This will be helpful when there is an emergency in front of your vehicle.
【USB Car Charger Car Recorder】The dual car recorder comes with a USB output car charger, so you don't need to worry about charging your phone when using the 4k car recorder. In addition, the car recorder has a backup USB-C power option on the car camera, so you can use it through the USB-C port when you remove the car recorder from the mount. Note: The car charger is a mini USB port, please use the car charger for stable power supply while driving.
【Capacitor Car Camera, Longer Life】The built-in capacitor powered car recorder is more resistant to heat damage and safer in bad weather conditions. In the coming summer, this front and rear car recorder will make you rest easy in the hot climate.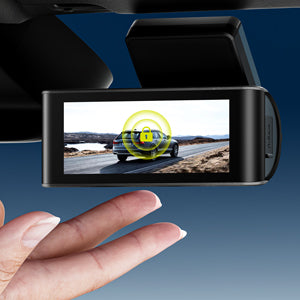 Exclusive Gesture Sensor
Dash Cam not only has G-sensor function, but also has a gesture sensor on the bottom. If you see an accident in front of the car, locking the video is convenient and faster.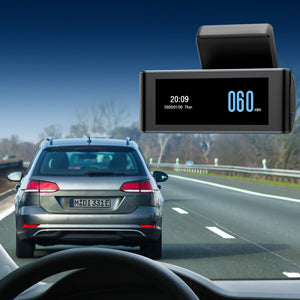 Screen Saver
Dash Cam will automatically go into screen saver mode while continuously recording video in the background. Live on-screen speed shows make it easier to know if you're overspeeding.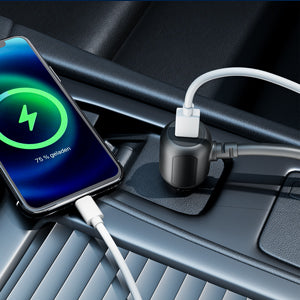 Car Charger with USB Port
The dual dash cam comes with a USB output car charger, so you don't have to worry about charging your phone when using the dash cam. Note: The car charger is a mini USB port, please use the car charger for stable power supply while driving.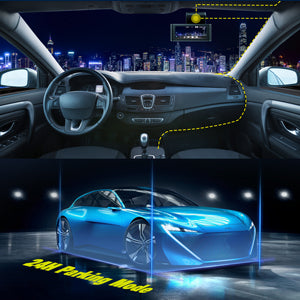 24-hour parking mode - hardware kit required
Parking Monitor provides a clear and accurate depiction of what is actually happening while the vehicle is parked. Note: This feature will only work if the Hardwire kit is properly installed. If you need a hardware kit, please contact [email protected]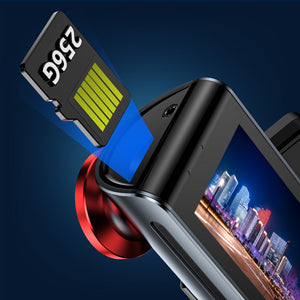 Supports Micro SD cards up to 256GB Class 10/ U3 or higher speed
With loop recording, you'll never have to worry about running out of storage space. But the gravity sensing feature will lock some urgent videos that can't be covered. Remember to format the micro sd card or transfer recordings on time. Note: Please format the micro sd card first when you use it for the first time. (Micro SD card is not included)
Why choose C350 Car Recorder?
 The Car Recorder is equipped with a high-resolution 4K front camera and 1080P rear camera, which can clearly record license plate and road sign details. Featuring a 3.16" touchscreen, you can easily set it up with a simple UI interface. Built-in WiFi once the app is connected, GPS tracks location and speed. Hot summer and cold winter work, longer life. 
Basic and Exclusive Features of C350 Car Recorder
 With the gesture sensor, you can lock the video or take photos easily before having an unexpected view in front of the car.
With Hardwire kit installed, Dash Cam will provide 24/7 car safety recording.
The USB-C data interface makes recording and downloading faster.
Magnetic Adhsive mount is strong enough and easy to remove from dashboard for downloading purposes and redialing.
G-sensor, cyclic recording, supports up to 256GB Micro SD cards. (Micro SD card not included)
Safety certification and testing: certified by CE, FCC, ROHS certificate
Mini size is easy to hide behind the rearview mirror without obstructing the view
Slide screen to switch between front and rear camera.
Screen saver with live speed, date and time.
Specification
Video Resolution: Front: 3840*2160P Rear: 1920*1080P
Display Screen:3.16 inch color IPS HD display
Lens: F1.8 large aperture, 6 lenses glasses
Detection angle:170° wide angle covers at least 4 lanes
Video mode: Loop Recording
Picture Format:JPG
WDR/G-Sensor Lock/Motion Detection/Parking Monitor/GPS: Built-in
Working temperature: -20°-65℃(-4F~149F)
Power Supply: DC5V/2A
Built-in WIFI: Guardcamera App
GPS playback: GPSPlayer
G-sensor: lock emergency video
Memory Card:U3 Micro SD card up to 256GB(Not included)
Package
1x 4K Dash Cam
1x 1080P Rear Camera 18ft
1x USB Car Charger 9.8ft
1x USB-C Cable
1x Adhesive Mount
1x Easy pry tool
4x Cable clamps
1x User Manual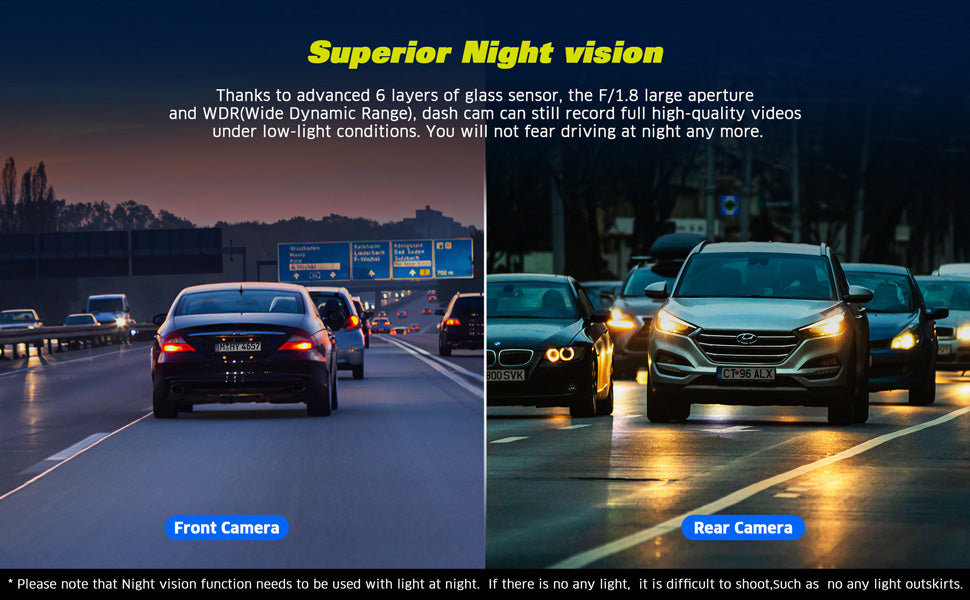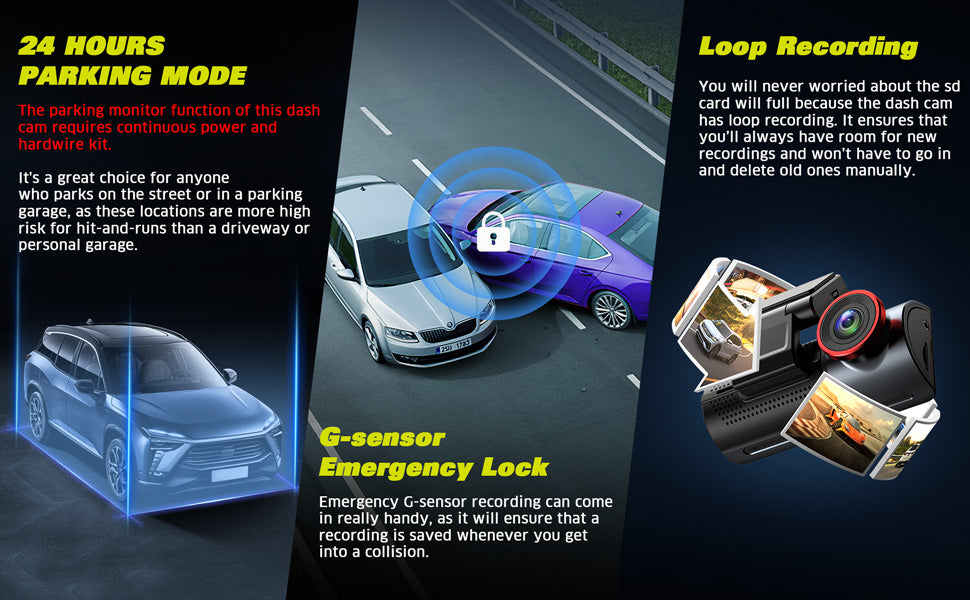 Purchase this product first or wait for order to complete in order to give review
Total Reviews (0)
click here write review to add review for this product.
1:Which transport methods do you offer?
We have warehouses all over the world, providing DHL Express, USPS, Canada post and other transportation methods.
According to your country, you will be given a relatively close shipping location.
The United States, Canada, France, the United Kingdom, Germany, Italy, Spain, Australia, Japan and European countries need 5-10 days to arrive, other countries need 10-20 days
2:How can I track my order?
When you complete the purchase, we will provide you with an order number (to send you the order number via email), you can query this website based on this order number at https://t.17track.net Logistics information
3:How much is the shipping cost?
As long as the order is over $15, the shipping is free(Free shipping on holidays) If the order does not exceed $15, the shipping is $10 for worldwide。 Some remote countries and regions need to charge 10-30 US dollars for transportation fees (shown on the checkout page)
Note: If you want to buy in bulk, please check the customs policy of your country before buying. We don't include customs clearance and you need to clear it yourself. If the goods are returned because they cannot be cleared, we need to charge the freight for the goods.
Most goods in the United States, Canada, the United Kingdom, France, Italy, Spain and other European regions don't require customs clearance, and will be delivered using local warehouses.
For other countries, please contact us before buying in bulk.
4:How to return the product?
If your goods have quality problems, please contact us at:[email protected]. and provide your order number.
If there is a problem with the product, you can return it within 30 days, we provide a one-year warranty
If you have any questions, you can request a refund on your paypal or credit card.anytime.
Our goal is to make sure your International buying experience exceeds your expectations. If you have any questions or would like references from our customer base of large institutional, research or university clients, please feel free to contact me anytime at [email protected]
5:How to cancel an order?
If you want to cancel your order, you can contact: [email protected].
But please note: if you pay with paypal, we will refund you the full amount.
If you pay by credit card, the bank will deduct our handling fee, so we will deduct the 3.5% handling fee and refund you the rest.
Note:
Due to the impact of Covid 19, logistics will be delayed. It is expected to be delayed about 3-5 days than usual. If your country or region is closed, we will send you an email to notify you. Please fill in your email when ordering!