About this item
【Dual Dash Cam Comes with U3 64GB Micro SD Card】In order to provide a better user experience, this car camera is equipped with a special design 64GB micro sd card. No need to purchase an extra memory card for the dash cams, It's easy to plug & play.
【Super Infrared Night Vision】1080P recording and HDR technology, the image, and video qualities are still clear and detailed even at night. In addition, the interior car cam is capable of capturing clear video in the dark with 4 infrared (IR) lights. This is well suited for taxi drivers who are mainly on the road late at night
【Front + Interior Dual 1080P dash camera】 The dashcam can simultaneously record front and interior of the car with 1080 FHD video and audio. The dash cam can provide crisp and clear video evidence in the event of a car accident or dispute while driving, driving more at ease.
【Full 310° wide-angle field of view】The front lens viewing angle reaches 170 degrees to both sides of the front of the car and records completely without blind spots for safe driving. The interior lens of 140 degrees is sufficient to capture a full view of your car's interior and occupants.
【Loop recording support 128GB SD card 】 The dual dash cam has a loop recording function to continuously record and automatically delete the oldest stored video to record the latest video when the memory is full. A G-sensor ensures that important stored video clips are not overwritten. The dashcam can hold a micro SD card of up to 128GB (SD card is NOT included).
【Reliable parking monitoring】 With parking monitoring turned on, the car dash cam can record when your car is hit while it is parked.
【Easy to setup and screensaver】 The driving recorder is easy to install on the windshield with a suction cup mount (adhesive mount is also available). Mini hidden shape won't distract driving vision. No complicated settings, plug and use. The car dash camera can record video with the screen turned off while you use the Screensaver feature.
【User Friendly yet Super Powerful】1.5" screen mini size and screen saver feature do not interfere with driving.G-Sensor, motion detection,HDR, all these features will help you record what you want on your drive journey, and make your peace of mind.
【Warm Tips】NO wireless, NO APP, NO WIFI, NO GPS, NO Bluetooth.
HDR Technology
Equipped with HDR high dynamic image processing technology, the front camera provides great exposure and dynamic range in low light conditions such as driving into the sun or oncoming traffic headlights at night.
Infrared Night Vision
The interior facing camera is surrounded by 4 infrared night vision lights, which captures decent images of the interior of your car when the passenger cabin is dark.
Loop Recording & G-sensor
Loop recording automatically overwrite the oldest footage to avoid memory card is full.
Parking Monitor
The dash camera for the car will automatically power on to record inside and front when detecting a sudden bump or impact to the car, which keeps an extra eye on your car while parked.
Motion Detection
When an intruder wanders around your car, the dash camera automatically turns on and starts recording during parking.
1080P High Resolution & 310° Wide Angle
The 170° angle full HD 1080P with 30fps front-facing camera and 140° angle 1080P with 30fps interior facing camera simultaneously captures the road front and inside the cabin, which takes crisp and clear video.
Optional Installation Mount
This car camera comes with 2 mounts: 1x Adhesive Mount and 1x Removable Suction Cup Mount. You can choose what you prefer.
Support 128GB max
The newest dash cam supports 128GB Max. Please make sure to use a U3 or above high-speed SD card and format it before first use.
Why do we need a car dash cam?
Mini compact design and user-friendly--Simple dash cam that anyone can start using right out of the box. It is a mini-size budget car camera, excellent value for money. (NOTE: The memory card is required and it is NOT included - purchase separately, supports micro-sd card, class 10 U3 speed, up to 128GB max)
Some bells and whistles--Parking monitor, G-Sensor, motion detection, loop recording, f1.6 lens aperture allows more light in the camera capturing the smallest details on the road, high dynamic range, H.264 video compression technology, four IR LEDs for cabin camera recording in the dark, screen saver, timestamp and so much more.
Powerful application scenarios--Temporarily parked on the side of the road; Unforgettable funny road driving trip vlog; An unexpected and difficult traffic dispute etc. This hidden dash camera can help you in all these situations.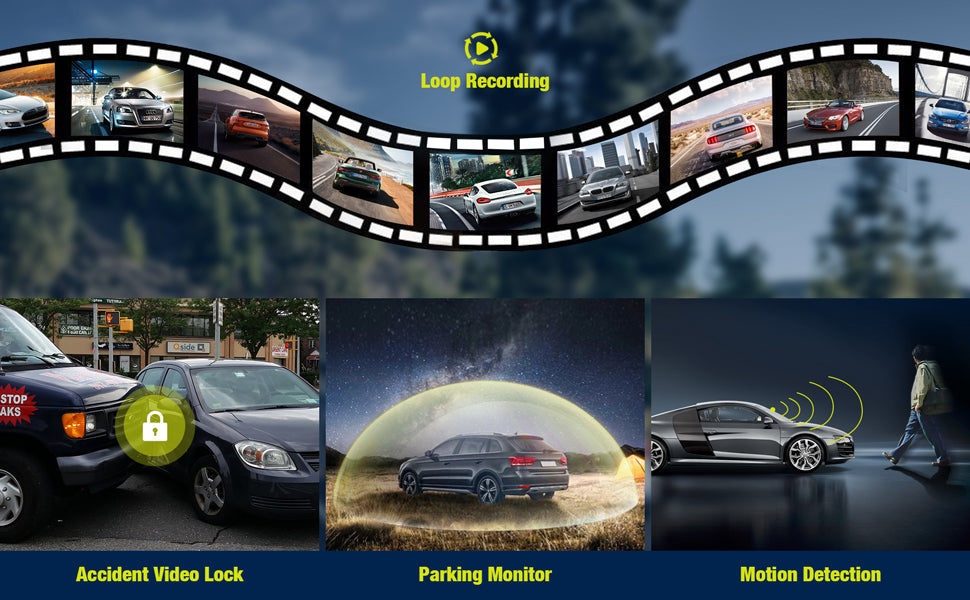 Important Tips:
When daily recording, the dash cam requires a constant power supply, so the camera should be always plugged into the car's cigarette lighter.
If you find the menu button won't work and freeze, please press the OK button to pause the recording first, then press the MENU button to access the setting.
The built-in battery capacity is small to record some minutes after fully charged when the camera is unplugged, because it's only designed for parking monitor.
If your dash cam stops recording and powers off while driving. Please kindly check if there are too many locked videos that can't be overwritten and filled up the SD card, to ensure normal storage, it is recommended to format the memory card once a month.The video files recorded under the gravity sensor will not be overwritten, so it needs to be manually deleted or formatted on a regular basis to avoid stopping loop recording when the card is full.
If your dash cam asks you to format the SD card for first use, please kindly if you use the correct Micro SD card. Class 10 or U3 above, 32-128GB high quality.
We don't recommend turning on Motion Detection in traffic jams or when driving at a constant speed on a highway. Otherwise, there will be a missing second during the recording.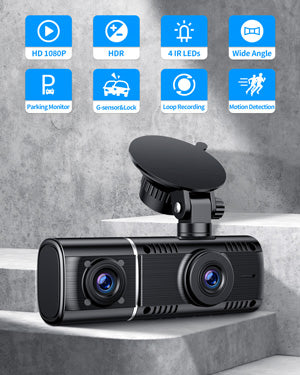 Specification
Screen: 1.5" LCD
Camera pixel: 1920x1080P@30fps
Storage: Support U3 or above 256GB Micro SD card.
Operating Temperature: -4°F - 130°F
USB interface: Mini USB
Power: 5V/1.5A
Video format: MOV ;
Photo format: JPG
Package
1* Car Dash Cam
1* 11.48 Feet Car Charger
1* 2.62 Feet Mini USB Cable
1* Suction Cup Mount and
1* Adhesive Mount
4* Cable Clamps
1* Plastic Crowbar
1* User Manual
Purchase this product first or wait for order to complete in order to give review
Total Reviews (0)
click here write review to add review for this product.
1:Which transport methods do you offer?
We have warehouses all over the world, providing DHL Express, USPS, Canada post and other transportation methods.
According to your country, you will be given a relatively close shipping location.
The United States, Canada, France, the United Kingdom, Germany, Italy, Spain, Australia, Japan and European countries need 5-10 days to arrive, other countries need 10-20 days
2:How can I track my order?
When you complete the purchase, we will provide you with an order number (to send you the order number via email), you can query this website based on this order number at https://t.17track.net Logistics information
3:How much is the shipping cost?
As long as the order is over $15, the shipping is free(Free shipping on holidays) If the order does not exceed $15, the shipping is $10 for worldwide。 Some remote countries and regions need to charge 10-30 US dollars for transportation fees (shown on the checkout page)
Note: If you want to buy in bulk, please check the customs policy of your country before buying. We don't include customs clearance and you need to clear it yourself. If the goods are returned because they cannot be cleared, we need to charge the freight for the goods.
Most goods in the United States, Canada, the United Kingdom, France, Italy, Spain and other European regions don't require customs clearance, and will be delivered using local warehouses.
For other countries, please contact us before buying in bulk.
4:How to return the product?
If your goods have quality problems, please contact us at:[email protected]. and provide your order number.
If there is a problem with the product, you can return it within 30 days, we provide a one-year warranty
If you have any questions, you can request a refund on your paypal or credit card.anytime.
Our goal is to make sure your International buying experience exceeds your expectations. If you have any questions or would like references from our customer base of large institutional, research or university clients, please feel free to contact me anytime at [email protected]
5:How to cancel an order?
If you want to cancel your order, you can contact: [email protected].
But please note: if you pay with paypal, we will refund you the full amount.
If you pay by credit card, the bank will deduct our handling fee, so we will deduct the 3.5% handling fee and refund you the rest.
Note:
Due to the impact of Covid 19, logistics will be delayed. It is expected to be delayed about 3-5 days than usual. If your country or region is closed, we will send you an email to notify you. Please fill in your email when ordering!