About this item
【4K Ultra HD Experience Car Camera】The dash cam features an ultra-high-definition 4K front camera that seamlessly records up to 4K @30fps when used alone, enabling clear capturing of license plates and road signs. The 1080P rear camera captures more incidents behind your vehicle. The rear cam is easily adjustable with a 19.5ft extension cable and works well for cars, SUVs, jeeps, and trucks. We can provide a longer 27ft extension cable if your vehicle is too long.
【360 degrees Monitor Car Safety】The 4k dash cam is a dual recording dash cam that comes with a 170-degree front camera and a140 degree rear camera, it can monitor the front and rear of your vehicle simultaneously with video at 2160P @25fps + 1080P @25fps, perfect to protect yourself from potential liability issues as well as accidents. Suction mount for the front camera; 3M adhesive brackets for the rear camera.
【7/24H Parking Mode】Thisdash cam front and rear provide a 12V-24V Hardwire Kit to realize 7/24H parking monitoring to guard the car when parked. The hardwire kit supports low-voltage protection. Please don't worry the vehicle battery will be drained out.
【Excellent even in Dark Conditions】The front camera of the car camera is equipped with a Sony image sensor, a 6-layer high-definition glass lens group with an infrared filter, high-definition WDR technology, intelligent identification of the shooting scene, which effectively enhances the night vision ability and provide you with clear night video.
【Heat Resistant with Super Capacitor】The dual dash cam is supercapacitor powered instead of lithium batteries, which are built to survive extreme weather conditions from -4 degrees F to 158 degrees F. It's higher security than others and also gives a longer life span than lithium-ion battery dashcams.
【A Must for your Car】This front and rear dual dash cam features Seamless loop-recording, G-sensor, wide-angel, parking monitor, motion detection, and 3 inch LCD Display. Easy to install and use. It's the most cost-effective investment.
【SD Card Important Tips】The dash cam High Resolution 4K car camera, the cam needs more space to save the footage. Please ENSURE to use a true brand U3 SD card and also format it when first plus in. The package Doesn't Include the SD Card. Note: It DOESN't supports WiFi or Bluetooth.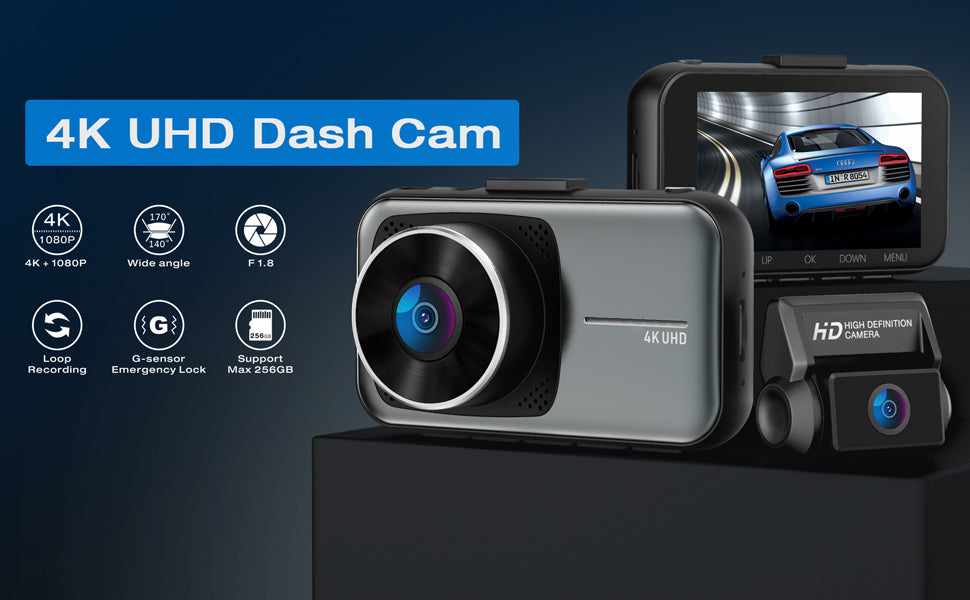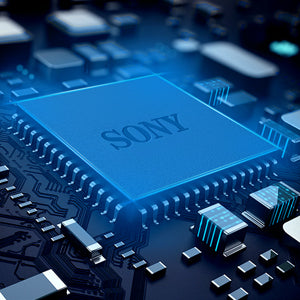 High-Tech Sensor
Equipped with a Sony IMX335 sensor, an F1.8 aperture with 6 glass lens, es, and WDR, it offers super clear image recording and provides higher-level in-car safety, fully guarding driving safety.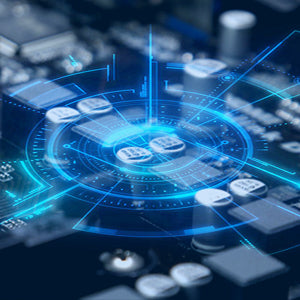 Heat Resistant with Super Capacitor
The dashcam is supercapacitor powered, which is higher security than others and also gives a longer life span than lithium-ion battery dashcams.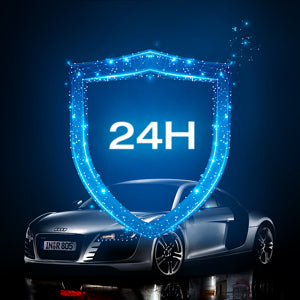 24H Parking Mode
The dash camera comes with a 12V-24V Hardwire Kit to realize 24H parking monitoring. After the car is turned off, the built-in gravity sensor realizes the automatic boot recording after the vehicle is shaken, which continues to guard the car.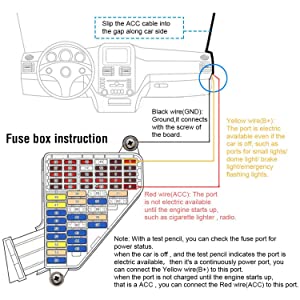 The Instructions for Installing the Hardwire Kit
Black wire(GND): Ground. Fix it on the side of the board. Yellow Wire(B+): The port is electric and available even if the car is off, such as ports for small lights/dome lights/brake lights/emergency flashing lights. Red wire(ACC): The port is not electric available until the engine starts up, such as the cigarette lighter, or radio.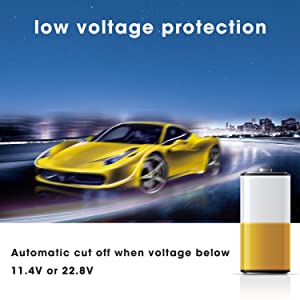 Low Voltage Protection
The hardwire kit protects the vehicle battery from discharging when using a parking monitor. It will automatically cut off when the voltage is below 11.4V or 22.8V. It would not drain out your car's battery.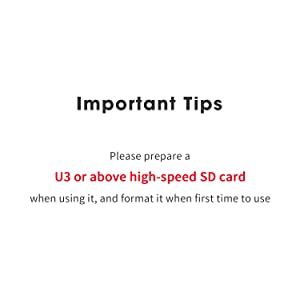 Dash cam doesn't include any SD Card
The dash cam requires a U3 or above high-speed SD Card. Please prepare a Brand U3 SD card when using it. Important Tips: If you use a U1 low-speed SD card, the camera will make beeps to remind you that the card is not compatible, then please replace the SD card with a U3 High-speed one.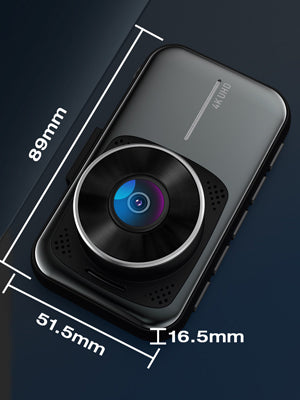 4K UHD 2160P + 1080P Front and Rear Dual Dash Camera for Cars Driving Video Recorder with Hardwire Kit
Dual-vision with Cinema-quality Video The 3-inch screen can show the front and rear cameras at the same time, and front and rear cameras will work in the parking monitor function. Every important detail in the front or rear of the vehicle can be recorded clearly to provide irrefutable video evidence or capture the landscape along your journey with cinema-quality video.
Screen: 3-inch UHD IPS Screen Video compression: MP4 Resolution: Single Front Camera 2160P@30fps / Front 2160P@25fps+Rear 1080P@25fps Image: JPEG; USB Interface: Mini USB External Memory: 256GB max, micro SD card of U3 [Note: Please format the Micro SD card to FAT32 on PC, then format it again on dash cam.] Support U3 or above 256GB Micro SD card. The micro sd card is not included in the package.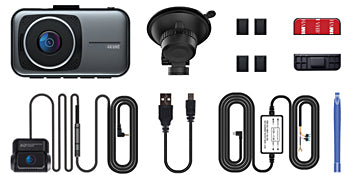 What's in the box?
1 x 4K Front Dash Cam
1 x 18ft 1080P Rear Camera
1 x 11.5ft Car Charger
1 x 2.62ft Mini USB Cable
1 x 12V-24V Hardwire Kit
1 x Suction Cup Mount / 2 x 3M sticker for rear camera
4 x Cable Clamps / 1 x Plastic Crowbar
1 x User Manual

Purchase this product first or wait for order to complete in order to give review
Total Reviews (0)
click here write review to add review for this product.
1:Which transport methods do you offer?
We have warehouses all over the world, providing DHL Express, USPS, Canada post and other transportation methods.
According to your country, you will be given a relatively close shipping location.
The United States, Canada, France, the United Kingdom, Germany, Italy, Spain, Australia, Japan and European countries need 5-10 days to arrive, other countries need 10-20 days
2:How can I track my order?
When you complete the purchase, we will provide you with an order number (to send you the order number via email), you can query this website based on this order number at https://t.17track.net Logistics information
3:How much is the shipping cost?
As long as the order is over $15, the shipping is free(Free shipping on holidays) If the order does not exceed $15, the shipping is $10 for worldwide。 Some remote countries and regions need to charge 10-30 US dollars for transportation fees (shown on the checkout page)
Note: If you want to buy in bulk, please check the customs policy of your country before buying. We don't include customs clearance and you need to clear it yourself. If the goods are returned because they cannot be cleared, we need to charge the freight for the goods.
Most goods in the United States, Canada, the United Kingdom, France, Italy, Spain and other European regions don't require customs clearance, and will be delivered using local warehouses.
For other countries, please contact us before buying in bulk.
4:How to return the product?
If your goods have quality problems, please contact us at:[email protected]. and provide your order number.
If there is a problem with the product, you can return it within 30 days, we provide a one-year warranty
If you have any questions, you can request a refund on your paypal or credit card.anytime.
Our goal is to make sure your International buying experience exceeds your expectations. If you have any questions or would like references from our customer base of large institutional, research or university clients, please feel free to contact me anytime at [email protected]
5:How to cancel an order?
If you want to cancel your order, you can contact: [email protected].
But please note: if you pay with paypal, we will refund you the full amount.
If you pay by credit card, the bank will deduct our handling fee, so we will deduct the 3.5% handling fee and refund you the rest.
Note:
Due to the impact of Covid 19, logistics will be delayed. It is expected to be delayed about 3-5 days than usual. If your country or region is closed, we will send you an email to notify you. Please fill in your email when ordering!