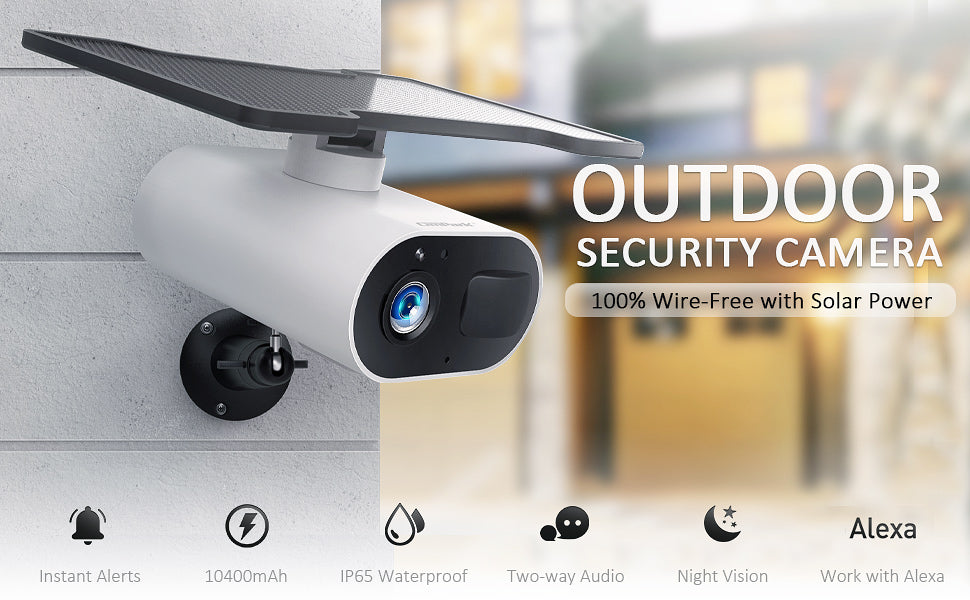 About this item
【Solar Supply & Wireless Security Camera】Solar outdoor security camera built-in powerful 10400mAh rechargeable battery and external solar panel, no worries to take off the camera to charge. The wireless surveillance camera provides better and more stable wifi connectivity, you can install solar cameras anywhere you want.
【Motion Detection & Instant Alerts】Our solar WiFi security camera adopted PIR sensors with smart motion sensitivity, it can distinguish between people and objects to avoid false alarms, once the motion is detected, the "To see Plus" app will push notification on your phone within a second. The

Tosee

Plus app is available through AppStore and GooglePlay.
【FHD 1080P & IR Night Vision & 166°Wide Angle】With the full HD 1080P outdoor wifi camera, you can clearly see the detail of the video and crystal clear images. The night vision is crisp with 6 infrared LEDs to ensure you a great view in the dark. The 166°wide-angle lens and monitor distance up to 65ft allows you to check any corner you want.
【Two-way Audio & Live View】The echo cancellation two-way audio function allows you to communicate with your guests easily. With the App "Tosee Plus" you can see the real-time live view of the outdoor camera via your phones or tablets anytime and anywhere. (Support iOS & Android)
【Works with Alexa & 30 Days Free Cloud Storage】The outdoor solar security camera is 100% wire-free and IP65 waterproof. Supports to insert Micro SD Card (not included) or Cloud Storage (30 days free trial). You can share the wireless camera with over 20 family members. It works with Alexa as well which brings great convenience for a family!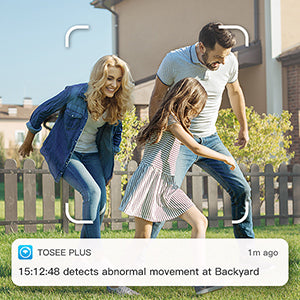 PIR MOTION DETECTOR
Campark wireless outdoor security camera provides accurate?PIR motion detection. Once the alarm is triggered, the "Tosee Plus" app will push an instant notification within 1 second. Please make sure your phone allows the app to send notifications.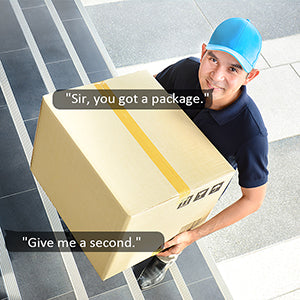 TWO-WAY AUDIO
The outdoor camera offers high-quality two-way audio with echo cancellation which allows you to talk to the visitors clearly. Now you can get your package even if you are not at home. You can also adjust the volume to scare away thieves.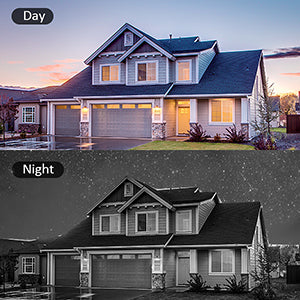 NIGHT VISION
The outdoor security camera offers comprehensive protection for home and office day and night with the outstanding 6pcs IR LEDs' night vision capability. The night vision picture is as smooth as in the daytime. You can clearly see who is outside instead of getting out of bed.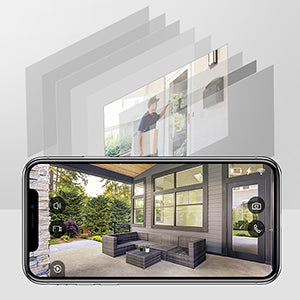 MANUAL RECORD
Click the "Photo" or "Video" button on the real-time view page to manually take a photo or record a video. The manual recorded photos and videos will be stored on your phone.
SHARE WITH FAMILY
One outdoor security camera can be shared with over 20 users. Easily share the wifi camera within a minute. Take care of children and pets anytime and anywhere!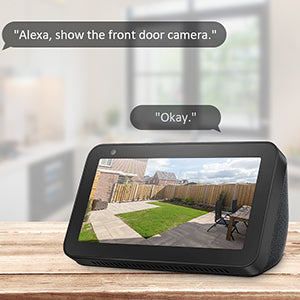 WORKS WITH ALEXA
The wifi security camera works with Alexa for voice control. Give the command to your Alexa device, simply ask her to show you anywhere you installed the Campark AP25 wireless security camera.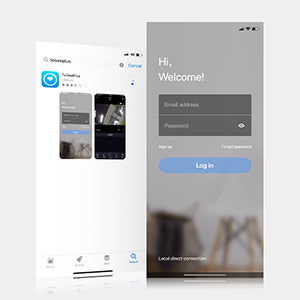 Two ways to connect
- Use AP hot dot: Connect the phone to the wifi named "TOSEE_XXX" (No password required) then fill in-home wifi name and password on the app.
- Scanning QR Code: Fill in-home wifi name and password on the app, then the app will generate a QR Code for the wifi camera to scan.
- Scanning QR Code is faster and easier to connect the outdoor wireless security camera to wifi. (Recommended)
Install anywhere you want
- The mounting kits and a screwdriver comes with the outdoor camera for quick installation.
- After successfully connecting the wifi, you can check the transfer rate on the app to make sure the wifi connection is stable. You can freely mount the wifi camera anywhere the internet signal is stable.
- The outdoor security camera is IP65 waterproof. The working temperature is -10°- 55°, it works all year!
Setting via App
- You can change the camera's name, set the PIR sensitivity, and turn on/off the PIR alert notification.
- You can set intercom volume of two-way audio, set playback video from card or cloud storage.
- You can turn on/off indicator light and night vision.
- You can add/remove several outdoor wifi cameras from App. The app allows you to monitor several places at the same time.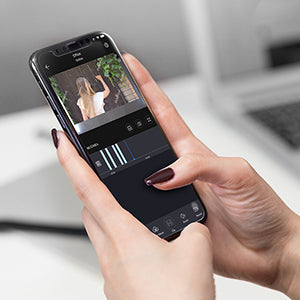 Easy connecting to 2.4G WiFi
- Download "Tosee Plus" app and sign up. You can quickly find the app from Google Play or App Store and download it.
- If you choose to use the local storage, remember to insert the micro SD card before you turn on the outdoor wifi camera.
- Turn on the switch at the bottom of the outdoor camera, the red light flashing means it is waiting to connect WiFi.
- When hearing a "beep" from the outdoor camera, the wifi is successfully recognized and the indicator light turns blue.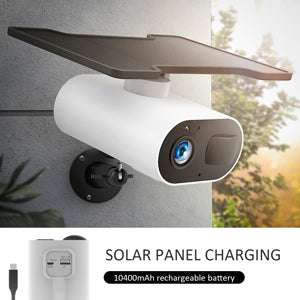 Why choose Campark AP25?
Long-lasting Solar Powered Charging
Built-in 10400mAh Rechargeable Battery
Accurate PIR Detection and Instant Alert
Full HD 1080P and 166° Wide View Angle
Clear IR Night Vision
Outstanding Outdoor Performance with IP65 Waterproof
Cloud Service / Local Storage Video Recording
Notice:
Fully charge the outdoor security camera before using it.
Make sure the camera connects to the 2.4G WiFi (not support 5.8G at present).
Make sure the WiFi signal is well to prevent losing connection.
If you want to playback the video on the computer, contact Campark Support to get "Raw_Player".
If you choose to use local storage, you need to plug the Micro SD Card (max.32G, not included) into the memory card slot before you turn on the camera.
This camera works with IOS / Android phones and tablets, not for computers.
Specification:
Wireless Communication Technology: Wi-Fi
Video Capture Resolution:1080p
Power Source: Solar-Powered, Battery Powered
Voltage:5 Volts
Battery Power: 10400 Milliampere Hour (mAh)
Package Includes:
1 x Outdoor Security Camera with Solar Panel
1 x Micro USB Charging Cable
1 x Outdoor Camera Mount Kits
1 x Reset Pin
1 x User Manual
79.17%

8.33%

4.17%

4.17%

4.17%
Purchase this product first or wait for order to complete in order to give review
Total Reviews (24)
click here write review to add review for this product.
1:Which transport methods do you offer?
We have warehouses all over the world, providing DHL Express, USPS, Canada post and other transportation methods.
According to your country, you will be given a relatively close shipping location.
The United States, Canada, France, the United Kingdom, Germany, Italy, Spain, Australia, Japan and European countries need 5-10 days to arrive, other countries need 10-20 days
2:How can I track my order?
When you complete the purchase, we will provide you with an order number (to send you the order number via email), you can query this website based on this order number at https://t.17track.net Logistics information
3:How much is the shipping cost?
As long as the order is over $15, the shipping is free(Free shipping on holidays) If the order does not exceed $15, the shipping is $10 for worldwide。 Some remote countries and regions need to charge 10-30 US dollars for transportation fees (shown on the checkout page)
Note: If you want to buy in bulk, please check the customs policy of your country before buying. We don't include customs clearance and you need to clear it yourself. If the goods are returned because they cannot be cleared, we need to charge the freight for the goods.
Most goods in the United States, Canada, the United Kingdom, France, Italy, Spain and other European regions don't require customs clearance, and will be delivered using local warehouses.
For other countries, please contact us before buying in bulk.
4:How to return the product?
If your goods have quality problems, please contact us at:[email protected]. and provide your order number.
If there is a problem with the product, you can return it within 30 days, we provide a one-year warranty
If you have any questions, you can request a refund on your paypal or credit card.anytime.
Our goal is to make sure your International buying experience exceeds your expectations. If you have any questions or would like references from our customer base of large institutional, research or university clients, please feel free to contact me anytime at [email protected]
5:How to cancel an order?
If you want to cancel your order, you can contact: [email protected].
But please note: if you pay with paypal, we will refund you the full amount.
If you pay by credit card, the bank will deduct our handling fee, so we will deduct the 3.5% handling fee and refund you the rest.
Note:
Due to the impact of Covid 19, logistics will be delayed. It is expected to be delayed about 3-5 days than usual. If your country or region is closed, we will send you an email to notify you. Please fill in your email when ordering!