Campark provides a variety of high-quality sports action cameras for outdoor enthusiasts.
Specifications:
4K 24MP/ Dual Screen/ EIS/ Sony Sensor/ Car Mode/ Time Lapse/ Long Exposure/ 8X Slow Motion/ WiFi/ 40M Waterproof Case/ Adjustable View Angle/ Distortion Calibration/ White Balance/ ISO/ Burst Photo/ Micro USB/ Micro HDMI/ Max 4x zoom
Warm Tips:
1. Support class 10 or above, 8-128GB micro SD card (NOT included). Please FORMAT the card in the camera before using it. (This GoPro-type camera doesn't have internal memory)
2. The sound effect will be influenced in the waterproof case. Please do not put it in the waterproof case for a better sound recording.
3. Dual screen cannot be used at the same time. Please press and hold the Down button for 3 seconds to switch between the front and back screens.
4. Recording Time: Each battery for 1080P/2.7K is About 180 minutes, and 4K is About 90 minutes.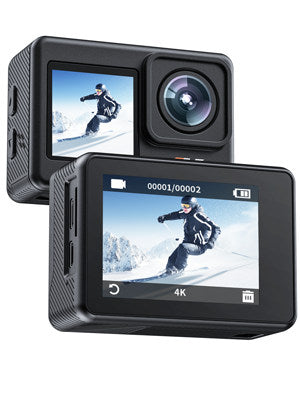 Specifications:
Video Resolution: 4K 30fps/2.7K 30fps/1080P 120fps/1080P 60fps/1080P 30fps/720P 240fps/720P 120fps/720P 60fps/720P 30fps
Video Format: MP4
Photo Resolution: 24M;20M;16M;13M;8M
Image Format: JPG
Sensor: SONY
Battery: Two 1050mAh Li-ion Batteries (Included)
Wi-Fi Connection: Android/iOS Supported(8-15 meters)
Waterproof Depth: 40M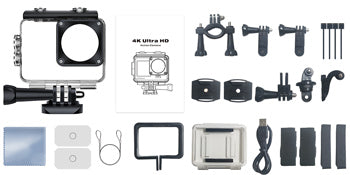 Package including (Most accessories are compatible with GoPro):
Campark X35/AC01
Action Camera
2 x 1050mAh Battery
1 x Waterproof Case
1 x Bicycle mounting kit
1 x Helmet mounting kit
1 x Back Clip Protection Frame
1 x USB Cable&User Manual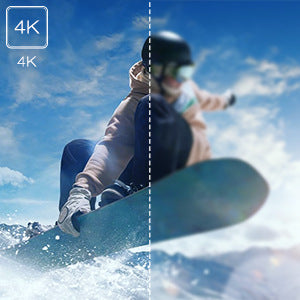 Professional Video Quality
Campark X35/AC01 action camera features ultra HD 4K video recording and 24MP photo resolution. You can capture stunning 4K 30FPS/2.7K 30FPS/1080P 120FPS/ 720P 240FPS, etc video to recall your adventure with sharp and clear video quality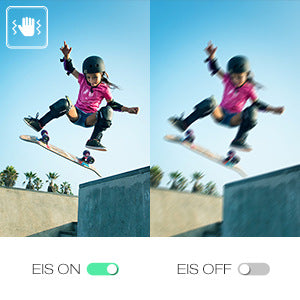 Smooth Video Stabilization
EIS function delivers smooth videos and pictures, ensuring a great experience for fast-moving objects. Campark X35/AC01 action camera records smooth, steady video whether you're skiing, snorkeling, or chasing your dog around the yard.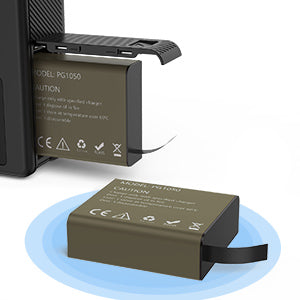 Long Battery Life
Comes with 2 rechargeable 1050mAh batteries. Each battery can record up to 90 minutes when it's recording at 4K mode, no more worry about power running out during the happy times with your family and friends.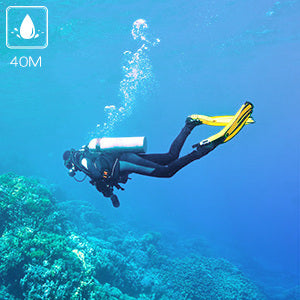 131 Feet Underwater Camera
With the waterproof case installed, you can dive underwater up to 131ft(40m). Perfect for swimming, surfing, diving, etc. This underwater case can protect the camera from scratches and hits.It is a good companion for diving, surfing, swimming, and other water sports.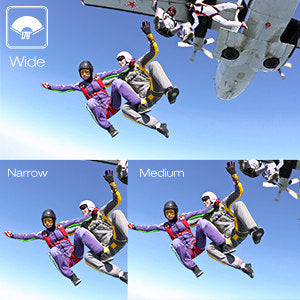 170° Wide Angle Lens
The view angle of this action camera can be set between wide(170°), medium and narrow according to your needs. 170° wide-angle enables the camera to capture more than your eyes can do. It is an excellent design for shooting and filming.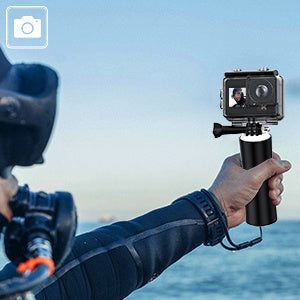 Self Timer
Even when you are alone, you can take a more beautiful image, you can take it anywhere, and record every indelible moment. The vivid front screen provides an excellent recording experience for selfie photos and videos. 2.0'' high sensitivity back screen is clear and vivid, giving you a great playback and preview experience.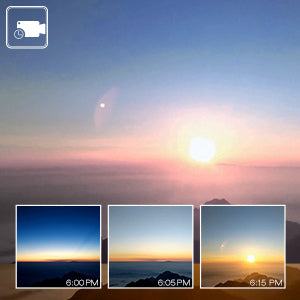 Time Lapse
Time-lapse video creates video from frames captured at specific intervals. This option record regularly, and intermittently, and reproduce the slow-changing process of the scene with a significantly changing image. Ideal for taking pictures of the passing of time, such as sunrise and sunset, flower sprouting and blossoming, the rhythm of the city, etc.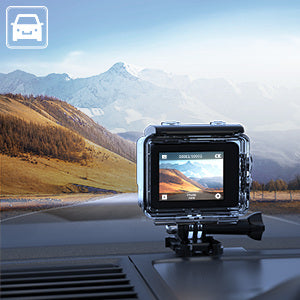 Car Mode
The camera can be adjusted to the loop recording mode and used as a driving recorder to record the environment around the car. When the car mode is turned on, the camera will automatically turn on after the USB cable is connected, and automatically record in the loop recording mode. After the power is off, the camera will automatically stop recording and turn off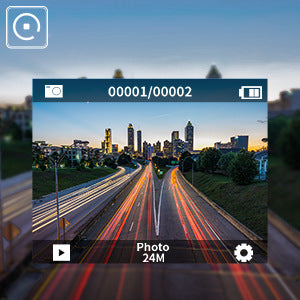 Long Exposure
Long exposure helps to capture clearer scenes in dark light and put the bright starry sky and colorful night scene into the camera. There are various shutter exposure durations of Auto/2/5/10/15/30 seconds, which can be freely adjusted. Ideal for taking pictures of Light source trajectories such as star tracks, meteors, etc.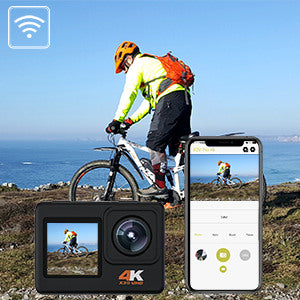 WiFi + APP Control
Just download the XDV PRO app on your phone or tablet and press the "UP" button for 3 seconds on the camera to turn on WiFi. WiFi signal ranges up to 10 meters. It allows you to monitor in real time, review videos/photos on mobile, and instantly share on social media. What's more, connect this camera to your computer with a USB cable to transfer your files, or simply hook up the sports cam directly to your TV via HDMI.
Purchase this product first or wait for order to complete in order to give review
Total Reviews (102)
click here write review to add review for this product.
1:Which transport methods do you offer?
We have warehouses all over the world, providing DHL Express, USPS, Canada post and other transportation methods.
According to your country, you will be given a relatively close shipping location.
The United States, Canada, France, the United Kingdom, Germany, Italy, Spain, Australia, Japan and European countries need 5-10 days to arrive, other countries need 10-20 days
2:How can I track my order?
When you complete the purchase, we will provide you with an order number (to send you the order number via email), you can query this website based on this order number at https://t.17track.net Logistics information
3:How much is the shipping cost?
As long as the order is over $15, the shipping is free(Free shipping on holidays) If the order does not exceed $15, the shipping is $10 for worldwide。 Some remote countries and regions need to charge 10-30 US dollars for transportation fees (shown on the checkout page)
Note: If you want to buy in bulk, please check the customs policy of your country before buying. We don't include customs clearance and you need to clear it yourself. If the goods are returned because they cannot be cleared, we need to charge the freight for the goods.
Most goods in the United States, Canada, the United Kingdom, France, Italy, Spain and other European regions don't require customs clearance, and will be delivered using local warehouses.
For other countries, please contact us before buying in bulk.
4:How to return the product?
If your goods have quality problems, please contact us at:[email protected]. and provide your order number.
If there is a problem with the product, you can return it within 30 days, we provide a one-year warranty
If you have any questions, you can request a refund on your paypal or credit card.anytime.
Our goal is to make sure your International buying experience exceeds your expectations. If you have any questions or would like references from our customer base of large institutional, research or university clients, please feel free to contact me anytime at [email protected]
5:How to cancel an order?
If you want to cancel your order, you can contact: [email protected].
But please note: if you pay with paypal, we will refund you the full amount.
If you pay by credit card, the bank will deduct our handling fee, so we will deduct the 3.5% handling fee and refund you the rest.
Note:
Due to the impact of Covid 19, logistics will be delayed. It is expected to be delayed about 3-5 days than usual. If your country or region is closed, we will send you an email to notify you. Please fill in your email when ordering!