About this item

【Innovative Cellular Transmission】 When this camera detects motion, it generates pictures and videos. After about a minute you will receive photos and videos from the camera. Whether you are at home or at work, you can receive pictures and videos of animals taken by the tracking camera anytime and anywhere. It saves you a lot of time and effort retrieving your SD card and helps you can focus on what's important. There is no wifi distance limit, You can view and download videos remotely. There is no need to frequently go out into the field to remove the tracking camera. You can manage camera settings, receive and share photos, monitor camera power status, and manage data plans through the mobile app. In addition, firmware updates, SD formatting, photo/video downloads and shooting requests are all set up from your phone even when you are on the other side of the country. This trail camera is suitable for North America and Europe. (Europe, USA, Canada, Mexico)
【Built-in SIM Card】Download "UCon" from App store or Google Play, both Android and IOS are supported. Purchase and activate your data plan with the included SIM card. SIM cards do not limit the type of data service provider, but are mostly based on AT&T, Verizon, and T-Mobile. This 4G SIM card with 100M of free data to test. It's easy to charge on the app once you run out of cellular data. There are no activation, contract or other hidden fees for using this card. You can choose the right data plan within your budget.
【4W Solar Panel】Equipped with an 8000mA rechargeable battery and 4W solar panel, this trail camera system provides a steady stream of power to the camera and can even work for 365 days on a full charge. You can flexibly install a wireless hunting camera anytime, anywhere without worrying about battery issues.
【2K Video and 3 Vision Modes】The wireless trail camera captures HD 2K (2668x1440) real videos. There are 2 night vision mode and 1 day vision to choose. When you choose white light mode, you will get color night vision videos. When you choose infrared light mode (invisible), you will get white and black image. The day vision is color. The resolution of all the modes is HD 2K. Tips: The white light night vision mode has glow light, so the mode can be used in farm.
【Flexible Pan Tilt and 2-way audio】355° pan and 90° tilt controllable on the app. You can remotely rotate the camera up, down, left and right on your mobile phone anytime, anywhere, and freely adjust and determine the detection angle and range. Equipped with intelligent PIR motion detection system and exclusive AI intelligent algorithm, it improves human and animal detection ability and can reduce 95% false alarms due to rain, insects, branches, etc. In addition, the built-in high-sensitivity sound-collecting microphone and speakers allow you to listen to the wonderful sounds of the animal world. You can also freely set two-way audio on and off.
【0.5s Trigger Time and Instant Alert】0.5s of triggered motion detection. Never miss a moment. No matter where you are, whenever the camera is triggered, it automatically records and sends a live alert notification of the video recording to your phone.
【IP66 Waterproof 】IP66 Waterproof and Operating Temperature: -20°C to 60° (-4°F to 140°F). With a waterproof and robust body, the solar cellular trail camera can resist splashing water, rain, heat, and cold.
【More Features】3 shooting modes (photo, video, photo and video), password protection, two-way talk, infrared night vision motion activation, IP66 waterproof. Tracking cameras work even in extreme weather, making them ideal for hunting, wildlife monitoring, farm theft, and even home security monitoring.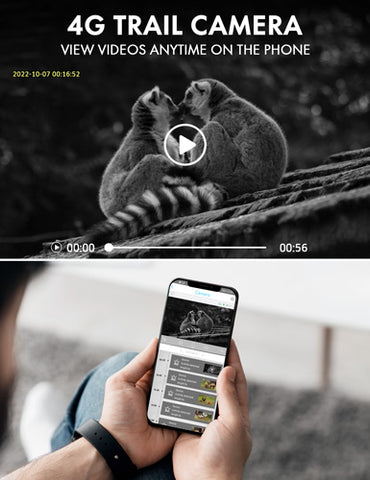 Cellular transmission
The camera works with several different internet service providers and comes with a powerful high-gain antenna to send pictures or videos to your smartphone. The Campark TC17 includes a SIM card that is activated and purchased with your data plan. You can network with the camera through the mobile app, so that your phone can not be limited by wifi distance, manage camera settings anytime, anywhere, receive and share photos, monitor camera power status, and more. The camera is suitable for the North America and Europe.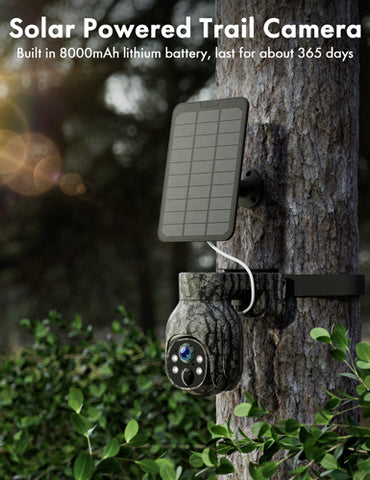 Solar cell camera
The camera has a built-in 8000mA high-capacity rechargeable battery and is equipped with a 4W high-efficiency solar panel. Charge the camera only once before use, then install the integrated solar camera in a sunny location to ensure the solar panel receives maximum sunlight and provides uninterrupted power to the camera.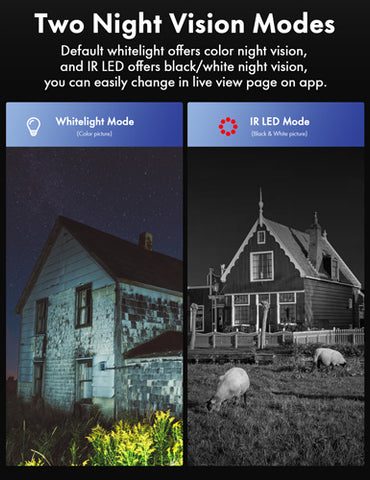 2K Full HD and Color Night Vision
Equipped with an excellent sensor and high-quality lens set, it can record 2K ultra-high-definition video and pictures at night. With its night vision up to 32 feet, you'll be able to keep an eye on what's happening near your camera! Built-in infrared LED light, you can choose black and white or color night vision.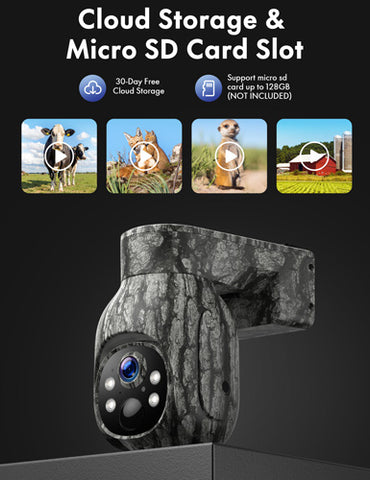 0.5s trigger time and instant alert
Initiate motion with an ultra-fast trigger speed of 0.5 s after animal motion is detected, with no delay. Never miss a wonderful moment. No matter where you are, whenever you trigger the camera, it will automatically record and send a real-time alarm notification of the video recording to your phone.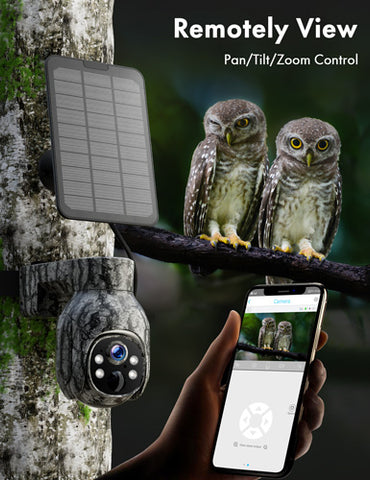 Flexible Pan Tilt
355° pan and 90° tilt are controllable on the app. You can remotely rotate the camera up, down, left and right on your mobile phone anytime, anywhere, and freely adjust and determine the detection angle and range. Provide you with maximum detection range.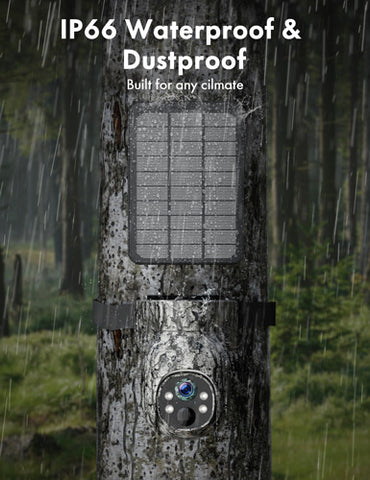 2-way audio
Built-in microphone and speaker for two-way audio. You can set it on and off freely. You can listen to the wonderful sounds of the animal world from your phone. When used for home monitoring, you can even talk to people remotely or disperse suspicious people from your home through a mobile APP.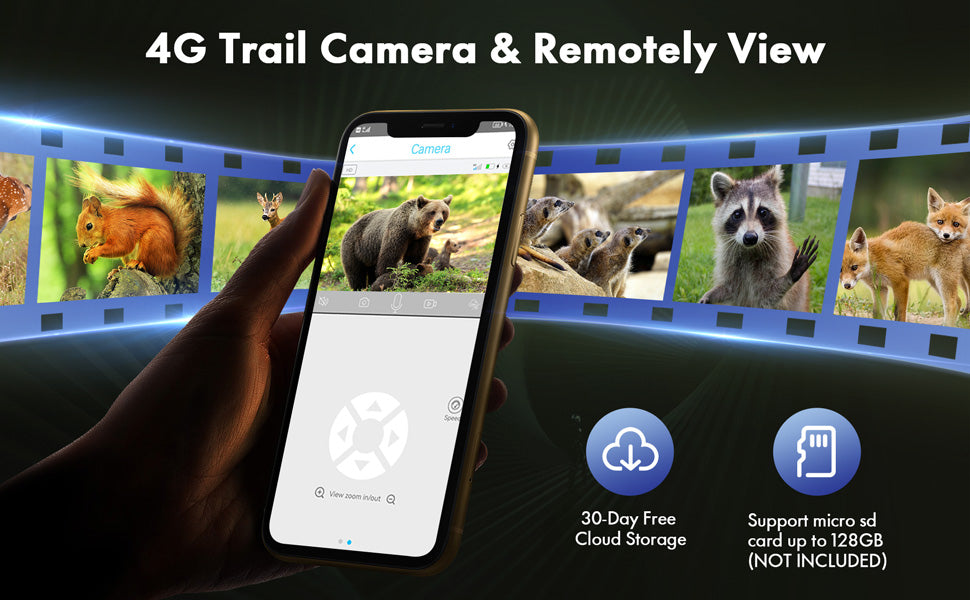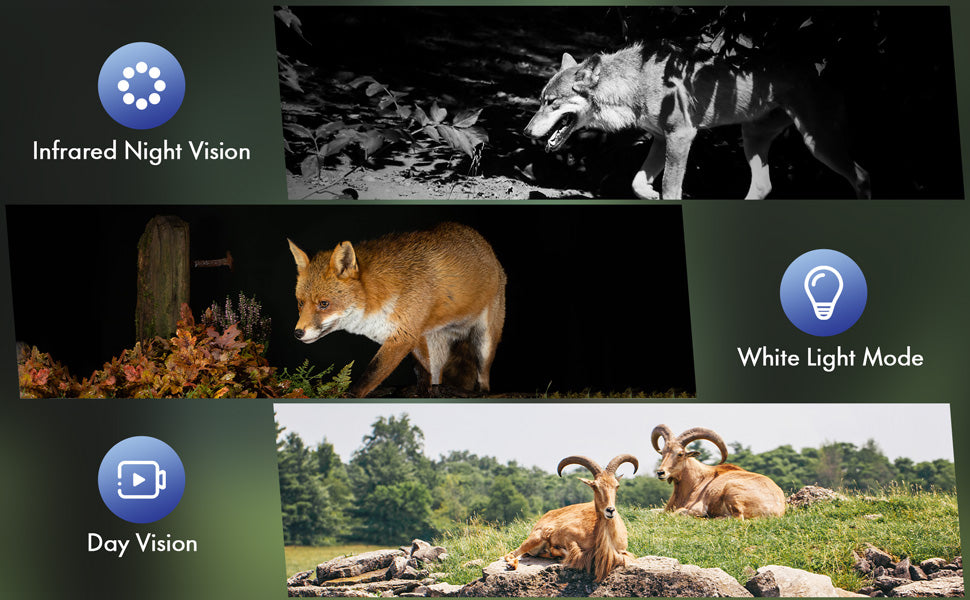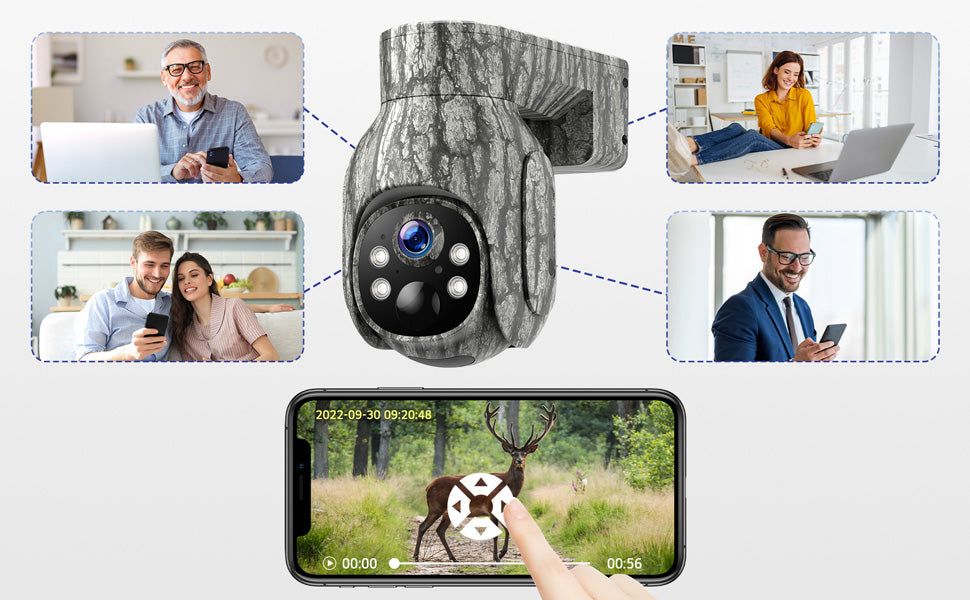 Warm Tips:

1)SIM card is include, but a micro sd card is not included.
2)Please reset the trail camera before use.
3)Please format micro sd card on the app.
4)Please charge the trail camera for about 10 hours before use.
5)The SIM card is support US, Canada, Mexico and European countries.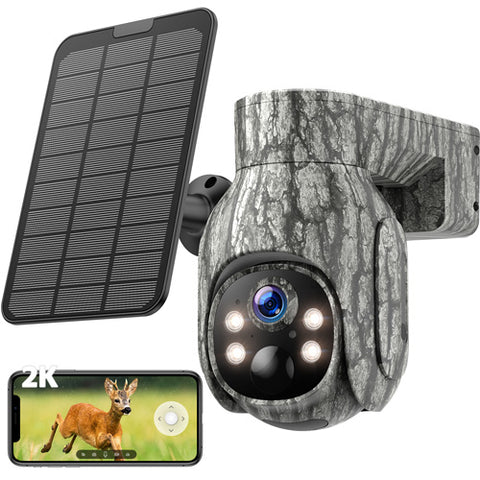 Specification
Free APP: UCon
Power Supply: Solar powered and built-in 8000mah battery
Built-in 8000mah rechargeable battery
2K HD video for day and night
Viewing Angle: Pan 355°, tilt 90°
Night Vision Range: 32ft
Vision Mode: Black &white night mode, color night mode, full light day mode
Playback: Support playback on the APP "UCon"
Mobile System: Support Android / iOS
Storage: Cloud storage and micro sd card storage
Waterproof: IP66
Multi-party sharing: Supports many users' sharing
Package
1x Trail Camera
1x SIM Card
1x solar panel
1x User Manual
1x Mounting Belt
1x Threaded Tripod
Accessories
Purchase this product first or wait for order to complete in order to give review
Total Reviews (0)
click here write review to add review for this product.
1:Which transport methods do you offer?
We have warehouses all over the world, providing DHL Express, USPS, Canada post and other transportation methods.
According to your country, you will be given a relatively close shipping location.
The United States, Canada, France, the United Kingdom, Germany, Italy, Spain, Australia, Japan and European countries need 5-10 days to arrive, other countries need 10-20 days
2:How can I track my order?
When you complete the purchase, we will provide you with an order number (to send you the order number via email), you can query this website based on this order number at https://t.17track.net Logistics information
3:How much is the shipping cost?
As long as the order is over $15, the shipping is free(Free shipping on holidays) If the order does not exceed $15, the shipping is $10 for worldwide。 Some remote countries and regions need to charge 10-30 US dollars for transportation fees (shown on the checkout page)
Note: If you want to buy in bulk, please check the customs policy of your country before buying. We don't include customs clearance and you need to clear it yourself. If the goods are returned because they cannot be cleared, we need to charge the freight for the goods.
Most goods in the United States, Canada, the United Kingdom, France, Italy, Spain and other European regions don't require customs clearance, and will be delivered using local warehouses.
For other countries, please contact us before buying in bulk.
4:How to return the product?
If your goods have quality problems, please contact us at:[email protected]. and provide your order number.
If there is a problem with the product, you can return it within 30 days, we provide a one-year warranty
If you have any questions, you can request a refund on your paypal or credit card.anytime.
Our goal is to make sure your International buying experience exceeds your expectations. If you have any questions or would like references from our customer base of large institutional, research or university clients, please feel free to contact me anytime at [email protected]
5:How to cancel an order?
If you want to cancel your order, you can contact: [email protected].
But please note: if you pay with paypal, we will refund you the full amount.
If you pay by credit card, the bank will deduct our handling fee, so we will deduct the 3.5% handling fee and refund you the rest.
Note:
Due to the impact of Covid 19, logistics will be delayed. It is expected to be delayed about 3-5 days than usual. If your country or region is closed, we will send you an email to notify you. Please fill in your email when ordering!